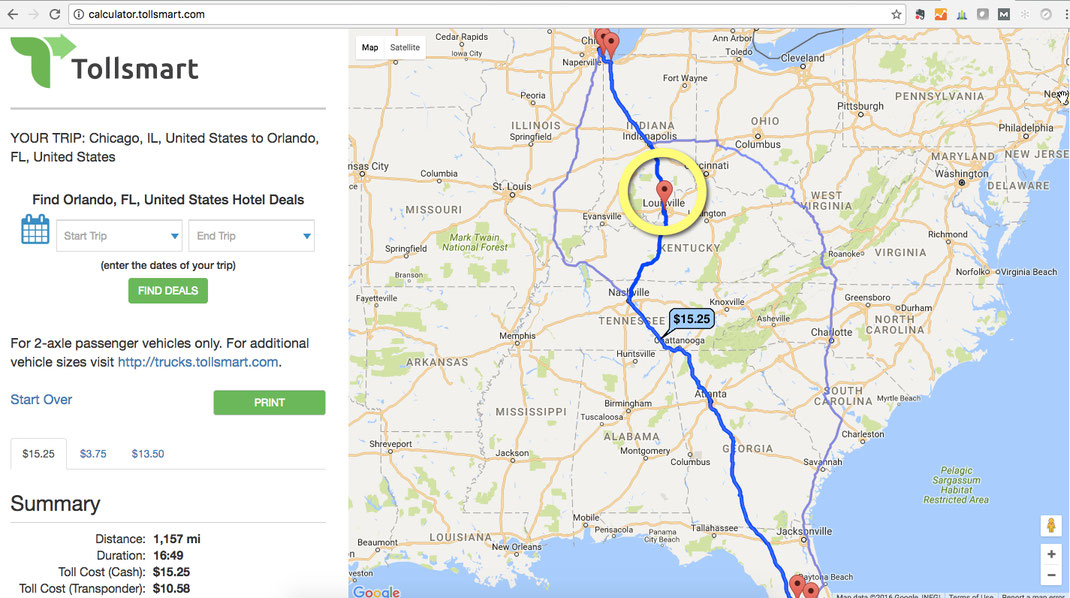 Cashless Tolling Begins Dec. 30th on Ohio River Bridge Crossing near Louisville, KY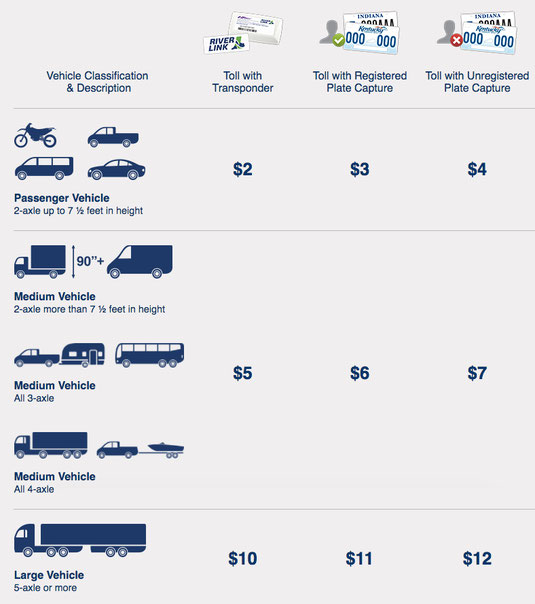 This is a 'heads up' for Chicagoans and other Midwesterners planning road trips to Florida this winter to be prepared to encounter new tolls when crossing the Ohio River bridges near Louisville, KY. Beginning on Dec. 30, 2016 new cashless tolling goes into effect on three bridges connecting Indiana and Kentucky, including two which channel I-65 traffic between Chicago and Florida; the Kennedy Memorial Bridge (southbound) and the new Abraham Lincoln Bridge for (northbound).
Toll Rates: For those traveling with an E-ZPass, I-Pass or a new RiverLink transponder, the fee is $2 each way for 2-axle passenger vehicles and motorcycles. Paying in cash is not an option as there are no physical toll booths, so those without a transponder will be charged $4 each way and receive a bill in the mail based on the address associated with the vehicle's license plate (overhead cameras will capture the license plate number).  
The fee schedule for additional vehicle sizes, including cars pulling trailers, can be found in the graphic on the right. Additional information can be found on the new RiverLink website at www.riverlink.com.
How Cashless Tolling Works
Cashless tolling, also known as All Electronic Tolling or AET, is rapidly spreading across the US as a means of improving traffic flows and safety, as it does not require travelers to slow down or squeeze into narrow toll booth lanes which can results in accidents, even fatalities. As a result a number of new cashless tolling systems have been introduced in the past year, including the conversions of the Tappan Zee Bridge in upstate NY this past spring and the entire Massachusetts Turnpike in October, and recently the state of New York indicated its intention to convert all of the state's tolling facilities to AET beginning in January with the conversion of two East River tunnels (the Hugh Carey and the Queens Midtown tunnels). 
The downside of AET is that it requires infrequent travelers to either get a transponder or pay the additional fees associated with the bill-by-mail service, although some systems provide a hybrid solution where you can register your vehicle in advance and drive through the toll facility without a transponder and pay less than the bill-by-mail rate. The video below provided by RiverLink explains how cashless tolling works for the three new Ohio River bridges, which includes all three payment options.