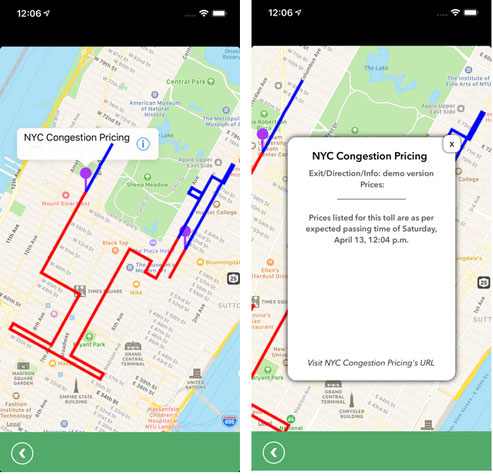 The team at Tollsmart was honored recently by being invited to participate in a process to review innovative technologies for the upcoming congestion pricing program in New York City.  Congestion pricing is a way of charging tolls for vehicles that enter certain parts of a metropolitan area and is slated to be implemented in Manhattan's central business district beginning in December of 2020.  Tolls will be charged for vehicles that drive south of 60th Street, with certain exceptions such as the FDR Drive and West Side Highway.
Although similar congestion-based tolls have been implemented in several cities across the globe, this is a seminal event in the US tolling industry as New York will be the first city in North America to utilize this complex type of tolling, and many other cities such as Los Angeles, San Francisco, Seattle and Washington DC are watching closely and may soon follow NYC's lead.  
Given the short window of time for rolling out this new method of tolling and the space limitations of NYC streets, the agency responsible for implementing the program (the MTA) has begun exploring new technology that can be applied quickly without requiring the installation of a great deal of physical infrastructure.  As part of this evaluation they have invited a handful of innovative technology firms in the tolling industry - including Tollsmart - to create proof-of-concepts and prototypes and submit them to the MTA for evaluation via a process known as an RFI (Request for Information).
We wasted no time as our talented technology team got to work and quickly created a prototype built on our innovative Toll Tracker™ technology which utilizes GPS signals to track when users pass through tolls and applies the appropriate fees.  The use of GPS as a tolling technology is getting increased attention given that over 80% of adults in the US now carry GPS-enabled smartphones and a growing percentage of new automobiles have GPS installed as part of their embedded navigation systems. In fact in a recent article the co-founder and former CEO of Zipcar Robin Chase argues that GPS is the 'technology that could transform congestion pricing'.
Whether GPS is embraced by the MTA as part of the platform for NYC congestion pricing is yet to be determined, however the possibilities are exciting and we're excited to be among the companies the MTA has reached out to in their evaluation. Meanwhile if you are in the New York City area or will be traveling there you can test out the prototype we built for the MTA as we've made it publicly available in our free Toll Tracker™ app for iOS in the App Store.  Simply download the app and drive south of 60th Street in Manhattan and it should indicate when you have  entered into the (proposed) congestion zone, and if you give it a try let us know what you think by dropping us a line at feedback@tollsmart.com. 
Happy Driving!